Covertech Fabricating Inc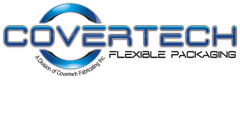 Covertech Fabricating Inc
279 Humberline Drive
Etobicoke, ON M9W 5T6
Canada

Company Description:
Covertech Fabricating Inc. is a manufacturer of extruded film (both Co-Ex and Monolayer) as well as a North American industry leader in the manufacturing and distribution of Reflective based insulation and radiant barriers products known and sold under the brand name rFOILTM.
Established in 1990, our modern 107,000 sq. ft. facility in Toronto, Canada provides in-depth consulting, extensive packaging options and a team of experienced support specialists enabling Covertech to provide superior products and packaging solutions at a cost you can afford.
rFOILTM is a patented technology designed to reduce radiant heat gain/loss and control interior condensation in Post frame and metal building applications. Our approach to providing the top-of-the-line performance insulation products along with our in-house insulation experts and Nationwide distribution network makes us the preferred choice of the building community.
rFOILTM insulation materials are tested under the ASTM 1224 Standard Specifications for reflective insulation for building applications. Included in these criteria is a fire test, ASTM E84-09 and ASTM E2599 require reflective insulation to have a flame spread rating of 25 or less, and a smoke development rating of 50 or less.
Covertech is a member of Reflective Insulation Manufactures Association International (RIMA-I); the only worldwide trade association representing the reflective insulation, radiant barrier and interior radiant control coating industries. The Rima Verification program was established to identify reflective products that have fulfilled test requirements in accordance with the current applicable code standards. All Covertech products are Rima Verified.
rFOILTM Reflective Insulation can be used in a variety of applications:
Pre-Engineered Steel Buildings
Post Frame / Pole Barns
Agricultural Buildings
Residential Metal Roofs
Mini Storage
Livestock Confinement
Sensitive Compartmented Information Facilities (SCIF's)
Secured Government Buildings
Mobile Homes
DIY Applications
HVAC
Products/Services:
Insulation - Plastic
Insulation - Reflective / Radiant Barriers
Polyethylene
Tape
Insulation - Metal Building

Search http://www.rfoil.com
MOST POPULAR CATEGORY SEARCHES
blower machines
,
contractors
,
distributors/accessories
,
insulation - cellulose
,
insulation - fiberglass
,
insulation - injection foam
,
insulation - metal building
,
insulation - mineral wool
,
insulation - reflective / radiant barriers
,
insulation - spray polyurethane foam
,
insulation accessories and supplies
,
insulation equipment