TAP Pest Control Insulation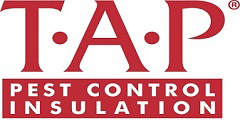 TAP Pest Control Insulation
5285 Mountain Center Plaza
Lula, GA 30554
United States

Company Description:
Thermal Acoustical Pest Control (T•A•P®) Insulation is an innovative and green "loose-fill," cellulose insulation which represents a unique opportunity for insulation contractors across the country to grow their business by offering a differentiated service within their market. T•A•P® Pest Control Insulation is primarily made from ground-up newspaper. The new paper fibers are then treated with a specially formulated borate solution to give the product its pesticide qualities. The result is a safe and highly effective insulation and pesticide that is environmentally sensitive as well.
T•A•P® Pest Control Insulation is installed by being blown into attics on top of existing insulation. It can also be installed in attics and walls of new homes with specialized machines or to complete an attic restoration service. While reducing homeowners' energy bills by keeping the home warmer in winter and cooler in summer, T•A•P® Pest Control Insulation offers permanent pest protection that controls common household insects that nest in attics and walls like Ants, Booklice, Centipedes, Crickets, Darkling Beetles, Earwigs, Millipedes, Roaches, Silverfish, Sow Bugs, and Termites (including Formosan Termites).
T•A•P® Pest Control Insulation is also a superior insulation product that guards against mold and mildew, offers excellent acoustical control and fire resistance with year-round energy savings, and provides the additional bonus of permanent pest protection backed by a limited lifetime warranty. T•A•P® Pest Control Insulation bears the Energy Star Seal & Insulation mark and is UL certified.
Since T•A•P® Pest Control Insulation is an EPA-registered pesticide, the regulations related to the sale and install of the product vary from state to state. In states where licensed insulation contractors are able to sell and install T•A•P® Pest Control Insulation, we are happy to help contractors understand and sell the benefits directly to home builders and homeowners.
Equipment, Supplies and Training
T•A•P® Pest Control Insulation also offers insulation equipment, supplies, marketing materials and training to make your T•A•P® Pest Control Insulation service offering a breeze.
Products/Services:
Insulation - Cellulose
Insulation Accessories and Supplies
Insulation Equipment
Contacts:
William Turk
President/CEO
(770) 766-6050
Nathan O'Brien
Director of Sales & Client Support
(770) 561-3090
Matt Paul
Marketing Manager
(770) 766-6050
Search http://www.TAPinsulation.com
MOST POPULAR CATEGORY SEARCHES
blower machines
,
contractors
,
distributors/accessories
,
insulation - cellulose
,
insulation - fiberglass
,
insulation - injection foam
,
insulation - metal building
,
insulation - mineral wool
,
insulation - reflective / radiant barriers
,
insulation - spray polyurethane foam
,
insulation accessories and supplies
,
insulation equipment