Winona Building Products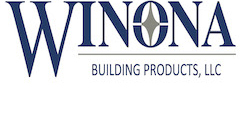 Winona Building Products
506 North Street
Plymouth, IN 46563
United States

Highlight Description:
Manufacturer of USA made, eco-friendly FSK and PSK Insulation Facings and Vapor Retarders
Extended Description:
Winona Building Products was established to meet the demand for US manufactured, UL Classified insulation vapor retarders and facings. The company manufactures environmentally friendly, sustainable insulation facings from its 300,000 square foot facility on 28 acres in Plymouth, Indiana. This Midwestern location facilitates timely and cost competitive transportation to the entire US and Canada.

Winona Building Products was founded by the owners of E&H Products, Inc., which has been supplying the insulation markets since 1983 and Winona Powder Coating, Inc. which has been supplying the building products industry since 1979. Winona Building Products state of the art in-line scrim laminator utilizes the latest PLC technology. Winona manufacturers insulation facings up to 102 inches in width.
Winona has sourced the highest quality components for its insulation facings to meet the needs of users in the metal building insulation, duct wrap, duct board, foam board, pipe jacketing, tape and OEM insulation markets. Our products are engineered to protect the insulation from the effects of moisture, physical abuse and ultraviolet rays. Our facings are designed with proprietary flame retardant chemistry to meet stringent fire codes.

The facings produced are in accordance with Underwriters Laboratories, Underwriters Laboratories of Canada, ASTM International. Winona BP provide vapor retarders at competitive prices, provide on time deliveries with unparalleled customer service and technical support.
Product Information:
R35X - FOIL / SCRIM / KRAFT
R35X HD - FOIL / SCRIM / KRAFT
EHP-VRX - POLYPROPYLENE / SCRIM / KRAFT
EHP-10X - POLYPROPYLENE / SCRIM / KRAFT

More Info
Products/Services:
Insulation - Fiberglass
Insulation - Metal Building
Insulation - Reflective / Radiant Barriers
Insulation - Rockwool
Insulation Accessories and Supplies
Search http://www.winonabp.com
MOST POPULAR CATEGORY SEARCHES
blower machines
,
contractors
,
distributors/accessories
,
insulation - cellulose
,
insulation - fiberglass
,
insulation - injection foam
,
insulation - metal building
,
insulation - mineral wool
,
insulation - reflective / radiant barriers
,
insulation - spray polyurethane foam
,
insulation accessories and supplies
,
insulation equipment