AMD Distribution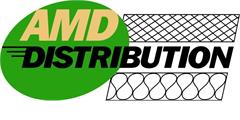 AMD Distribution
1021 Kasten Drive
Spring Valley, MN 55975
United States

Phone: 877-470-4263
Fax: 507-282-6361
Website:
www.amddistribution.com
E-Mail:
Forward to a Friend
Company Description:
AMD Distribution is a locally owned Wholesale Insulation Distributor based out of Spring Valley, MN servicing the Midwest, Mountain West, and Canada. AMD Distribution was formed by a group of friends with the mission of using their insulation knowledge to build long lasting relationships with customers, employees and vendors. They believed with a dedicated staff, quality products and unbelievable service they could help their customers thrive and subsequently AMD would do the same. For those very reasons "It's not 'just' insulation to us!"
A full service distributor of: 3M, Atlas, ACH Foam, Certaspray, Certainteed Insulation, Corbond, CT Machineworks, GE Silicones, Hanes Companies, Husky Sheeting, Insul-Bag, Intec, Johns Manville Insulation, Lamtec, Membrain, personal protective equipment, Premium Spray Acrylics, Premium Spray Foam, Raven, Simple Saver, thermal barriers, Tytan, & Venture Tape
Products/Services:
Coatings
Insulation - Fiberglass
Insulation - Metal Building
Insulation - Reflective / Radiant Barriers
Insulation - Spray Polyurethane Foam
Tape
Vacuums/Vacuum Bags
Ventilation
Waterproofing

Search http://www.amddistribution.com
MOST POPULAR CATEGORY SEARCHES
blower machines
,
contractors
,
distributors/accessories
,
insulation - cellulose
,
insulation - fiberglass
,
insulation - injection foam
,
insulation - metal building
,
insulation - mineral wool
,
insulation - reflective / radiant barriers
,
insulation - spray polyurethane foam
,
insulation accessories and supplies
,
insulation equipment