Applegate Insulation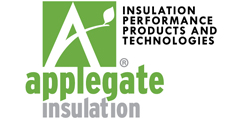 Applegate Insulation
1000 Highview Drive
Webberville, MI 48892
United States

Highlight Description:
With manufacturing locations in MI, PA, GA, KY, WI, LA, CO, AZ
Applegate Insulation specializes in truly Green, Environmentally, and Sustainable Insulation products.
Applegate Cellulose Insulation is a premium cellulose insulation renowned for its low dust, magnificent fire resistance properties, superb sound attenuation and outstanding coverage. With eight manufacturing plants across the USA, Applegate has more cellulose insulation plants in the USA any other manufacturer, and a 40+ year reputation of innovation, integrity and dedication to customer service. Applegate offers not only quality insulations but installation equipment, insulation supplies, as well as installation training, sales training and technical support.
Applegate Insulation produces several Loose-Fill and Stabilized Cellulose Insulation products which contain over 80% recycled content, qualify for many LEED points and are third party tested to ensure compliance with all relevant government specifications and standards. The Applegate Guaranteed Energy Savings Program (AGES) provides a manufacturer guaranteed energy savings program for existing homes for 4 years!
Applegate Insulation sells and services contractors and distributors worldwide.
• Applegate Stabilized Cellulose® contains dry adhesive, that, when activated, locks in place and virtually eliminates settling and dust. Applegate's proven Spray-In Insulation System is founded upon this insulation and is compatible with wall-spray, stabilized attics, and applications between floors.
• Applegate® loose-fill is a high-performance insulation for attics, floors, retrofits and dense packing.
• Applegate Advanced Stabilized™ is a stabilized cellulose insulation with a high-borate formulation that delivers the same great insulating power and safety that all Applegate Insulations carry.
• R-Value® stabilized and loose-fill cellulose insulations are specially tailored for small machines and retrofit applications such as weatherization work.
Applegate Insulation products are warrantied for the life of the premises in which they are installed.
Extended Description:
Applegate's 2-hour firewall is listed in 27 UL fire rated assemblies with UL's W305 wall assembly being proprietary to Type 1 SAFE. https://iq.ulprospector.com/en/profile?e=244017. See UL Fire Resistance Directory, file R39273 (CCAZ product category code), for a list of the 27 suitable building assemblies for Applegate Insulation. Using only one 5/8" sheet of gypsum board on each side, this is a cost-saving fire assembly for multi-family housing/commercial buildings. STC Rating 58. ASTM E-90 full-scale testing at Riverbank Acoustical Laboratory.
Products/Services:
Insulation - Acoustical
Insulation - Cellulose
Insulation Equipment

Search http://www.applegateinsulation.com
MOST POPULAR CATEGORY SEARCHES
blower machines
,
contractors
,
distributors/accessories
,
insulation - cellulose
,
insulation - fiberglass
,
insulation - injection foam
,
insulation - metal building
,
insulation - mineral wool
,
insulation - reflective / radiant barriers
,
insulation - spray polyurethane foam
,
insulation accessories and supplies
,
insulation equipment