Rhino Linings Corporation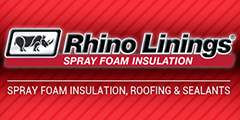 Rhino Linings Corporation
9747 Businesspark Avenue
Suite 100
San Diego, CA 92131
United States

Highlight Description:
About Rhino Linings:
Rhino Linings Corporation, established in 1988 and headquartered in San Diego, California, is a privately-held corporation and world leader in protective coatings and linings. Products manufactured and distributed by Rhino Linings include polyurethane, polyaspartic and epoxy coatings, as well as concrete resurfacing and refinishing products, spray foam insulation and stucco. Rhino Linings takes pride in developing products, including spray foam insulation and roof coatings that time and again dominate the maret for a wide variety of applications.
The Rhino Linings® network consists of approved contractors across the country. With top-performing formulations, comprehensive system packages and unmatched professional support, Rhino Linings continues to set the standard in the building product industries. > Become a Rhino Linings Spray Foam Contractor
Extended Description:
Rhino Linings Featured Product Lines:
ThermalGuard™ spray foam insulation products play a crucial role in ensuring your customer's building operates efficiently as a system, minimizing leaks and keeping conditioned air inside. When used with other responsible building practices, ThermalGuard by Rhino Linings can save your customers up to 50% on heating and cooling costs compared to traditionally insulated structures. > See all ThermalGuard products
DuraTite® by Rhino Linings spray polyurethane foams (SPF) and elastomeric roof coatings form a system designed to extend the service life of a new or existing roof while offering a significant energy savings in warmer climates. Unlike traditional roofing systems, the Rhino Linings SPF roofing system is seamless, lightweight and installs quickly and cost-effectively. > See all DuraTite products
Products/Services:
Coatings
Ignition/Thermal Barriers
Insulation - Spray Polyurethane Foam
Insulation Equipment
Contacts:
Director of Sales
858-226-9430
Territory Manager, South
858-266-9415
Territory Manager,North West
858-253-1616

Search http://www.rhinolinings.com/spf
MOST POPULAR CATEGORY SEARCHES
blower machines
,
contractors
,
distributors/accessories
,
insulation - cellulose
,
insulation - fiberglass
,
insulation - injection foam
,
insulation - metal building
,
insulation - mineral wool
,
insulation - reflective / radiant barriers
,
insulation - spray polyurethane foam
,
insulation accessories and supplies
,
insulation equipment