IDI Distributors Inc.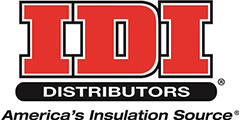 IDI Distributors Inc.
8303 Audubon Road
Chanhassen, MN 55317
United States

Company Description:
America's One Stop Shop for Insulation, Training, Accessories, and Parts & Equipment

Fiberglass | Spray Foam | Cellulose | Foam Board | Mineral Wool | Trainings | Accessories | Machines | Rigs
IDI Distributors has over 60 locations nationwide and over 200 insulation delivery trucks, ensuring you feel confident you will get the product you need, when you need it, and at an affordable price. Our national presence enables us to accommodate jobsite deliveries, locally stock special order products, and onsite training, regardless of where your business is located.
In 1979, Joe Novogratz founded IDI with a mission: build an insulation distribution company that would supply the market with a wide selection of quality insulation and act as a true, professional resource for independent contractors. Over 40 years later, IDI is still family-owned and operated, and has helped over 3,000 independent insulation contractors and distributors successfully profit and grow their own businesses nationwide.
When you need more than an insulation distributor, you choose IDI. We can offer the service, support, products, and the professionalism you need to succeed. Let us work for you.

IDI'S CUSTOMER SERVICE PLEDGE

IDI PLEDGES TO:

1. Personally commit to helping you build your company into a professional and profitable business.

2. Supply you with a wide selection of the leading national products at competitive prices.

3. Provide on-the-job training to you and your installers.

4. Locally stock special order products so you don't have to tie-up your finances with an inventory of seldom used products.

5. Offer financial accounting support and business consulting; plus machine and equipment financing to customers who are committed to IDI.

6. Be your source for product and technical knowledge, along with the professional guidance to help you sell each aspect of the job.

7. Assist you with marketing materials that are customized to the specific products and demands of your marketplace.
Product Information:
IDI 2800-G INSULATION BLOWING MACHINE
The 2800-G is specifically designed for contractors to provide a smaller designed footprint with an 18hp Briggs and Stratton V-Twin gas engine. Capable of blowing all types and brands of loose-fill insulation to the manufacturer's specifications.

More Info
Products/Services:
Blower Machines
Distributors/Accessories
Insulation - Fiberglass
Insulation - Spray Polyurethane Foam
Training

Search http://www.IDI-Insulation.com
MOST POPULAR CATEGORY SEARCHES
blower machines
,
contractors
,
distributors/accessories
,
insulation - cellulose
,
insulation - fiberglass
,
insulation - injection foam
,
insulation - metal building
,
insulation - mineral wool
,
insulation - reflective / radiant barriers
,
insulation - spray polyurethane foam
,
insulation accessories and supplies
,
insulation equipment