JOHNS MANVILLE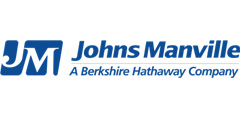 JOHNS MANVILLE
Insulation Systems
P.O. Box 5108
Denver, CO 80217-5108
United States

Highlight Description:
Johns Manville, a Berkshire Hathaway company and global building products manufacturer, offers a complete range of high-quality insulation solutions including fiber glass, polyiso foam board sheathing, mineral wool and closed- and open-cell spray foam products.
JM is the only insulation manufacturer to receive Indoor Advantage™ Gold + Formaldehyde Free certification from Scientific Certifications Systems for products from its complete line of Formaldehyde-free™ fiber glass building insulation. In addition to fiber glass batts, rolls and loose-fill fiber glass, the company offers innovative products such as JM Spider® Blowing Wool, AP™ Foil-Faced Foam Sheathing and JM CladStone™ Water & Fire Block Insulation.
Extended Description:
JM also offers closed- and open-cell spray foam insulation. JM Corbond® III insulation, a premium high-yield, medium density, closed-cell spray foam insulation designed for residential, commercial and air barrier applications. JM Corbond® open-cell spray foam is a lower density, nonstructural insulation that offers an R-Value of R-3.8 per inch. It delivers high yield, minimizes sound transmission and virtually eliminates any air leakage. It's designed to improve energy efficiency for a wide variety of residential, commercial and industrial applications and can act as an effective air barrier.
For more information on Johns Manville and the company's products, please visit JM.com
Products/Services:
Ignition/Thermal Barriers
Insulation - Acoustical
Insulation - Metal Building
Insulation - Spray Polyurethane Foam
Insulation Accessories and Supplies
Contacts:
Jo Anne Janney
Product Management Leader
(303) 978-2779
Casey Paulson
National Accounts Leader - Contractors
(602) 327-2354

MOST POPULAR CATEGORY SEARCHES
blower machines
,
contractors
,
distributors/accessories
,
insulation - cellulose
,
insulation - fiberglass
,
insulation - injection foam
,
insulation - metal building
,
insulation - mineral wool
,
insulation - reflective / radiant barriers
,
insulation - spray polyurethane foam
,
insulation accessories and supplies
,
insulation equipment