SprayWorks Equipment Group, LLC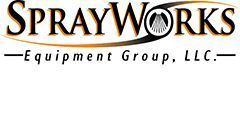 SprayWorks Equipment Group, LLC
215 Navarre Rd SW
Canton, OH 44707
United States

Company Description:
Quality Spray Foam Insulation Equipment
SprayWorks Equipment Group offers spray foam insulation equipment, parts, spray foam insulation rigs for sale – also introductory and advanced spray foam training classes. Our team is comprised of industry experts, certified in spray foam and polyurethane. SprayWorks team has combined experience of over 100 years – at the center of the polyurethane industry.
Equipment: We distribute PMC spray guns, proportioners, pumps, and parts –time-tested and built to last. PMC equipment is known to be the cheapest in the industry and the best quality. Our PMC proportioners come built to function as air driven or hydraulic – designed for basic insulation projects or heavy duty project needs.


The AP-EX Spray Gun is the newest gun in the polyurethane industry – built as a pole gun that allows you to spray 10 feet or more without the use of scaffolding or stilts. Customers decrease spray time by 30% or more and minimize staging during every project.


Our automated equipment consists of our Spraybot – a robot designed to automatically spray foam with pre-set millage and speed. Customers boast saving 10% or more in yield.


The latest and easiest to use drum heater is the Barrel Blazer. Designed to heat your material and save money for your bottom line – for those chilly or freezing nights. The Barrel Blazer comes equipped with an optional TC Unit – which eliminates manual monitoring of temperatures and allows you to digitally monitor the temperature of your material.


Training: In addition to a full line of spray foam and coatings equipment - we offer training with single-day advanced sessions up to fully integrated multi-day training sessions for small or large teams. In addition to our free online spray foam training, we also offer full day in-class training – allowing you and your team to get a hands-on experience with spray foam and working with equipment. Large equipment and rig purchases come with free training.
Rigs & Trailers: SprayWorks offers a line of custom and uniquely designed spray rigs to fit your business needs. Our spray foam rigs and trailers are fully customizable, with eco-friendly options. Each rig comes equipped with your choice of equipment to best accommodate your business needs; proportioners, spray guns, hoses, drum heaters, and pumps. Some customers opt to include the fully automated Spraybot. Each rig comes with free training for you and your team - along with 24/7 technical support. Whatever you choose, our certified experts come with decades of experience and can help you select the rig that's right for your business needs.
Parts: When your equipment isn't running – your business isn't running and nobody understands that better than SprayWorks. We offer one day express shipping for all spray foam insulation parts – whether you order from our online store or on the phone with one of our part specialists. From o-rings to rebuild kits – we have all the parts you need for your spray foam equipment.


Overspray Release allows you to easily wipe away built up spray foam from your respirator mask. Just spray a coat of overspray release on your respirator mask, then go to work. Once you start to accumulate spray foam on your mask, just wipe it away – easy as that!


Our line of Fix-It Box's come stocked with all the parts you need to repair your PMC AP-2 Spray Gun or your Graco Fusion Spray Gun. Each box includes a set of flip cards that shows you the breakdown of your gun – allowing you to easily identify the part you need and how to disassemble or reassemble your gun.


SprayWorks' O-ring Rebuild Kits offer all the o-rings you need to repair your PMC AP-2 Spray Gun or Graco Fusion Spray Gun. The rebuild kit includes 32 o-rings for the AP-2 and 21 o-rings for the Fusion guns.


Call SprayWorks today for your spray foam insulation equipment needs (855)754-2208. Our certified experts are ready to help you start or grow your spray foam insulation business.
Financing is also available for equipment and spray foam rig purchases. Click here to learn more about our financing program and how you can get a new AP-2 Spray Gun for as little as $26/month.
Product Information:
SprayWorks spray foam rigs and trailers are fully customizable, with eco-friendly options. Each rig comes equipped with your choice of equipment to best accommodate your business needs; proportioners, spray guns, hoses, drum heaters, and pumps. Some customers opt to include the fully automated Spraybot. Each rig comes with free training for you and your team - along with 24/7 technical support.

More Info
Products/Services:
Insulation - Spray Polyurethane Foam
Insulation Accessories and Supplies
Insulation Equipment
Machine Rebuild
Training
Search http://www.sprayworksequipment.com
MOST POPULAR CATEGORY SEARCHES
blower machines
,
contractors
,
distributors/accessories
,
insulation - cellulose
,
insulation - fiberglass
,
insulation - injection foam
,
insulation - metal building
,
insulation - mineral wool
,
insulation - reflective / radiant barriers
,
insulation - spray polyurethane foam
,
insulation accessories and supplies
,
insulation equipment