DAP Products Inc.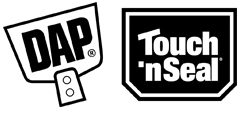 DAP Products Inc.
1645 Manufacturers Drive
Fenton, MO 63026
United States

Highlight Description:
DAP Products Inc., is a leading manufacturer and supplier of caulks, sealants, foam, adhesives, and repair products with a history of first-to-market innovations with trusted, quality, reliable and long-lasting products for professional contractors, remodelers and do-it-yourselfers.
Our Mission
Provide trusted solutions to build, renovate, and repair homes around the world, with confidence from start to finish, while demonstrating an intense desire to help others succeed.
Who We Are
DAP's history is deeply rooted in America since 1865, where the first product was produced out of the founder's garage in Dayton, Ohio.
The company headquarters and manufacturing facilities are located here in the United States with headquarters based in Baltimore, Maryland. Additionally, the company owns and operates manufacturing plants and distribution centers in Baltimore, Maryland, Dallas, Texas and the St. Louis region of Missouri, and also operates a manufacturing plant in Tipp City, Ohio.
DAP also has a strong presence in Canada and Mexico and ships products to over 70 countries and territories around the world.
Historical and notable innovation include pioneering the development of latex caulking compounds, breakthroughs in latex polymer foam technology, innovative wall repair products that have a color change dry time indicator and the introduction of advanced sealant technologies that result in greater productivity for the end-user.
DAP has a number of #1 selling brands in their respective categories including DAP® Alex Plus® Acrylic Latex Caulk Plus Silicone, DAP® Drydex® Dry Time indicator Spackling, DAP® Weldwood® Contact Cement, DAP® Kwik Seal ® Kitchen & Bath Adhesive Sealant, DAP® Plastic Wood,® and Plastic Wood-X® Wood Fillers.
Other great DAP brands and innovative products include RapidFuse® All Purpose adhesive, DynaGrip® Construction Adhesives, Kwik Seal Ultra™ Premium Siliconized Sealant, Dynaflex™ Ultra Advanced Exterior Sealant, DynaFlex 230®Premium Indoor/Outdoor window and door sealant, Extreme Stretch Premium Crackproof Elastomeric Sealant, Alex Plus® and Alex Flex® Spackling, as well as Touch 'n Foam® and Touch 'n Seal® foam sealants.
Extended Description:
DAP Products Inc. is a leading US manufacturer of one-component aerosol polyurethane foam sealants and adhesives, disposable two-component low-pressure spray polyurethane Foam Kits, and the CPDS Series 2, Constant Pressure Dispensing System, a high efficiency dispensing unit for low-pressure spray polyurethane Foam Kits under the Touch 'n Foam® and Touch 'n Seal® foam sealant brands.
DAP Touch 'n Seal® foam sealants are formulated and packaged to meet the specific needs of insulation, construction, and weatherization professionals: air sealing cracks and crevices, sealing doors and windows without distortion, fire-block and fire-stop for internal penetrations, and low temperature cure. Touch 'n Seal one-component foams and adhesives are packaged in aerosol cans for use with Touch 'n Seal Sharpshooter Applicator Guns or in 10-lb. and 16-lb. cylinders with wand applicators. Touch 'n Seal All Seasons foam sealant is also available in 12- and 24- oz. aerosol cans with straw dispensers and the Foam Saver trigger, allowing the product to be stored and reused at a later date.
Touch 'n Seal two-component low-pressure polyurethane spray Foam Kits are available in 1.0 pcf open-cell, 1.75 and 2.0 pcf closed-cell foam for insulation and air sealing, and 3.0 pcf density for temporary roof repairs. Touch 'n Seal Foam Kits are ideal for applications where health and safety considerations associated with high-pressure SPF are a concern, or where high-pressure SPF is not cost-effective because of the size of the project.
The DAP Touch 'n Seal CPDS Series 2 constant pressure dispensing system applies two-component foam at up to twice the rate of standard Foam Kits, with greater control and higher yield. Professional insulation contractors and weatherization specialists routinely use Touch 'n Seal Foam Kits for sealing and insulating band joists, flash and batt applications, repair of damaged high-pressure SPF insulations, as well as wall addition and renovation insulation jobs.
Touch 'n Seal foam and adhesive products are manufactured at the DAP Products Inc Pacific, MO facility. DAP Products markets polyurethane spray foam sealants and foam kits for the retail trade under the Touch 'n Foam® and Touch 'n Foam Pro® brands.
For product information, please call our Customer Service Department at (800) 325-6180 or visit our website, www.touch-n-seal.com.
Product Information:
DAP Touch 'n Seal one-component polyurethane foam insulation and sealants provide the professional contractor with easy-to-apply and cost-effective products for insulating, air-sealing, and filling gaps and voids. Touch 'n Seal two-component Spray Polyurethane Foam Kits contain everything that is needed to complete the job of insulating and sealing. The CPDS Series 2 Constant Pressure Dispensing System offers faster application rates and greater yield per kit, lowering installed product costs.

More Info
Products/Services:
Insulation - Spray Polyurethane Foam
Caulks and Sealants
Coatings
Insulation - Acoustical
Insulation Accessories and Supplies
Insulation Equipment
Contacts:
Customer Service Department
(800) 325-6180, option "1
Don Schumacher
Director of Sales - Industrial Division
(800) 325-6180
Search http://www.touch-n-seal.com
MOST POPULAR CATEGORY SEARCHES
blower machines
,
contractors
,
distributors/accessories
,
insulation - cellulose
,
insulation - fiberglass
,
insulation - injection foam
,
insulation - metal building
,
insulation - mineral wool
,
insulation - reflective / radiant barriers
,
insulation - spray polyurethane foam
,
insulation accessories and supplies
,
insulation equipment